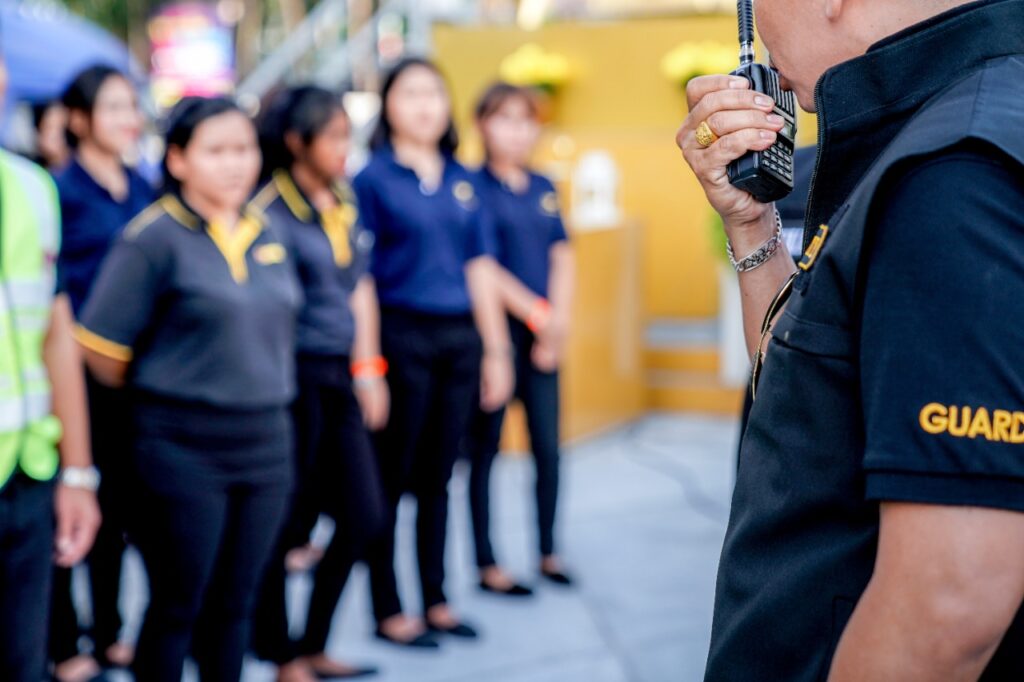 We protect your rights and assure that the bouncer Security Guard Services Punjab we provide will be nice, highly educated, and act appropriately for all of your needs. As a firm, we stand by this assurance and make it a point to hire only the most trustworthy individuals to work as bouncers. The teams that make up c have received specialized training for handling medical emergencies and managing crises. It is important that the bouncers look decent in order to maintain a high level of security while also maintaining a high level of customer satisfaction. We are extremely concerned about the technical equipment that is used throughout our services, and we are able to help our customers with the procurement of such safety equipment as well.
When it comes to the protection of products and valuables, the Bouncer Security Guard Services Punjab personnel that we offer are really helpful. The safety and protection of the event's visitors is one of the most crucial tasks for the bouncers, who are responsible for ensuring that everything runs well so that people may focus on having fun. It is of the utmost importance to provide the bouncers with training that includes mentally and physically taxing tasks so that they are prepared to handle hostile settings and emergency circumstances. We have put in a lot of effort to ensure that the experience we deliver is of the highest possible quality, so that it may be used effectively in any setting across Punjab.
Are Bouncers Qualified to Handle Medical Emergencies?
There are a good number of our bouncers that have completed training programmes in CPR and other first aid techniques. The majority of the time, these bouncers are used to transport customers to their destinations. Bouncers are trained to give help that is both professional and calm during times of emergency. In the event that the customer wants to engage emergency handling bouncers who have received certified training for large events or activities that have the potential for a medical emergency, we urge that they let us know in particular about this necessity.
Bouncers have extensive training to enable them to effectively manage diverse crowds while maintaining a level of control that is acceptable and doing so with full confidence.

Only after instructing bouncers on the relevant laws and procedures available for safety have they been hired to their positions.

The bouncers that Night Vision Security employs are not allowed to consume alcohol and are required to have a high degree of discipline.

A comprehensive family background check as well as a police verification is performed on all hired bouncers.

When they are employed to work as bouncers, it is expected of them that they have good communication skills so that they can assist any visitor at any moment.

The rules that bouncers are required to follow strictly state that they should avoid getting into fights, brawls, or any other kind of conflict and instead focus on controlling the entrance and departure whenever feasible.